Sleep Drops
Sku

#6000001060
Restful Sleep Elixir*
A soothing elixir of herbal extracts, amino acids, and minerals that help quiet your mind and relax your body so you can achieve restful, restorative sleep.*
FEATURES
Provides the body and mind with a custom sleep blend of amino acids that signal the brain to relax. Herbal extracts and antioxidants allow the body to relax and achieve truly restful, deep sleep that lasts all night.*
BENEFITS
Helps promote restful sleep without next-day drowsiness*
Supports the body's natural stress response*
Tincture delivery format—no pills to swallow
Delicious sugar-free Fruit Medley flavor
Non-habit forming
INGREDIENTS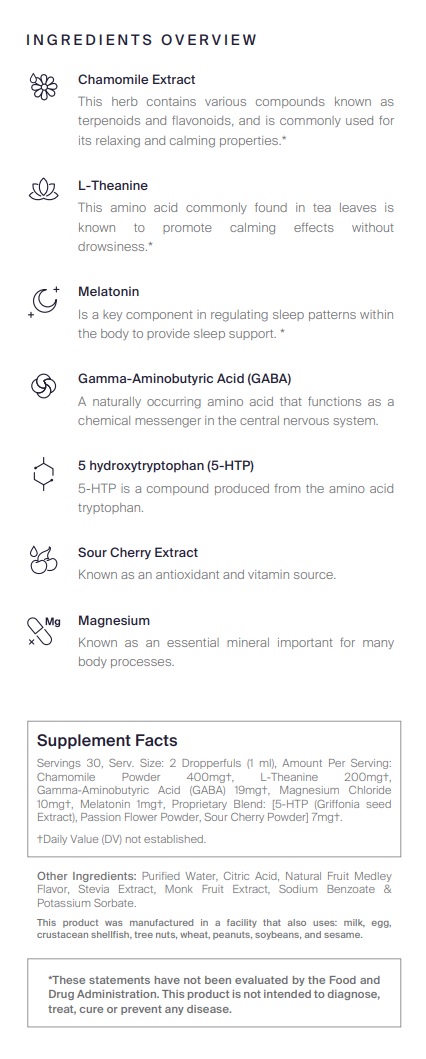 Reviews
Heather
My husband LOVES the sleep drops. He doesn't like to go without it. He gets the best sleep with the sleep drops he says.
View Details
Celeste
Best sleep in years
My husband and I have been taking this now a little over a week and both have noticed actually having deeper sleep with dreams and waking up more refreshed!
View Details
Cynthia
Sleep Drops
These drops have been an absolute life saver. I put two dropper fulls under my tongue, hold as long as I can and then swallow. I lie down, cut everything off, relax and within 10-15mins I'm out and sleep great for around 6-7hrs, wake up feeling great!
View Details
Jesenia
Great sleep
Love the sleep drops truly gives me the best sleep and really helps relax my body. Love waking up refreshed and well rested!
View Details