Collagen Key™
Sku

#6000001058
These products are for the U.S. Market Only
A unique, all-in-one formula to help support the body's natural production of collagen, adding strength and resilience to the hair, skin, and nails. *
FEATURES
Supports the body's natural production of collagen, adding strength and resilience to the hair, skin, and nails. Contains an amino acid blend utilized by the body to maintain existing collagen levels and replace lost collagen.*
BENEFITS
• Vegan-sourced amino acids to support collagen production*
• Supports the healthy appearance of hair, skin and nails*
• Supports skin moisture, elasticity and smoothness*
• Potent antioxidants including vitamin C*
• Sugar-free formula with natural peach berry flavor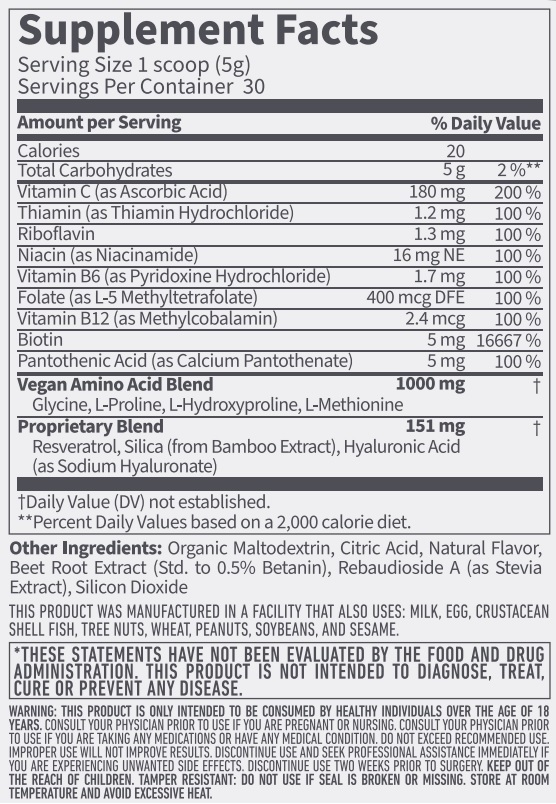 Reviews
Sara
collagen key-needs a flavorless option
love this stuff, great taste. But I wish we had a flavorless option so we can mix collagen with anything, not just fruit drinks and smoothies. I dont drink those daily, but an easy scoop to my coffee in the morning with a flavorless option would make it more consistent for me to take. The berry flavor is delicious and I notice a huge difference in my skin and nails.
View Details
Deana
LOVE
I have noticed a big difference in my skin since I started taking this.
View Details
Yessenia
I love the flavor and how it has no aftertaste! I have noticed an incredible difference in my skin as well. Love!!!
View Details
Sarah
Great Flavor
Wonderful refreshing summer fruity flavor
View Details